"The Lord is close to the brokenhearted and saves those who are crushed in spirit."  Psalm 34:18
"They've really gotten close to the Lord after that terrible tragedy," she reflected in wonder, but I thought, "No.  The Lord has really gotten close to them, to carry them, to heal them, to console them, to love them."
I know, because I have had Him draw close to me before, and the beauty of His presence is an aroma that makes grief a glorious gain, pain perfectly permissible, and loss livable.
Are you in pain right now?  Is the brokenness in your life causing you to despair?  Then you should open your eyes and your heart to await His presence.  Await the fragrance of His presence.  His voice is still and small.  His touch is gentle.  And if you force the futility, push the pain away, wrestle with willfulness, or fight the fiery furnace, you might miss the silent, Suffering Saviour who comes near to walk this way of suffering with you.
Go to a quiet place.  Close your eyes.  Breathe deeply.  Inhale and just rest. . . and feel. . . and listen.  Wait for His presence to envelope you like a fragrance diffuses into the air.  Let Him awash you in the healing aroma of His presence.
He knows about brokenness.  It is His brokenness that releases the fragrance of healing to you.  Breathe it in.  Allow it to anoint you.  Let it diffuse your life with the fragrance of renewal, regeneration. . . hope.
His presence with you in suffering is such a miraculous moment that . . . when hope deferred returns with desire as a tree of life. . . and you return to joy. . . you may mysteriously miss the fiery trial and the brief yet holy encounter with the One who walked so closely with you.
Shari
Shared with community at: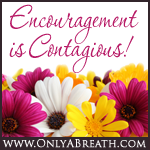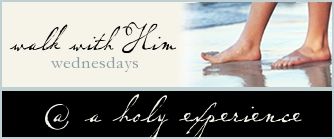 Won Without Words by Shari Popejoy is licensed under a Creative Commons Attribution-NonCommercial-ShareAlike 3.0 Unported License.
Based on a work at blog.wonwithoutwords.com.
Permissions beyond the scope of this license may be available at http://www.injoyinc.com/.