You'll be seeing some blogs between now and my next anniversary (in 354 days:)) about me trying to find ways to show my husband that I'm thinking about him, that what is important to him, is important to me, to try some 'gift-giving techniques on him, in hopes that I can learn to be as romantic as a roadrunner!
Now, I'm going to be very careful that I'm not trying to DO something for him so that I can get out of BEING the one his heart longs for. The whole idea is to learn to know him better now that we've been married for twenty-seven years! After all those years, it is easy to get in a rut and a routine, and I'm going to shake things up a bit, and have some major fun in the process!
So, I decided to think like him for a minute – what would he like? I remembered that he had sent me some protein/energy bar recipes to try. Like a dutiful wife, I had tried them, but they were so healthy that we couldn't even chew them, and they ended up taking valuable space in the freezer, because they were too valuable to throw away!
Anyway, since my husband also likes the rational good sense of America's Test Kitchen, I decided to approach making his energy bars like a scientific process. That will really impress him! So, using my limited knowledge of some of the nutritional information that he's bored — educated me with over the past few years, I selected a recipe for a bar that I thought would be both healthy and palatable.
After a few minor adjustments, I whipped up a batch of delicious Clif Bar knock-offs! This required a quick trip to the store for some healthy ingredients, and $30 later, I made about $15 worth of energy bars! Of course, I'll use those ingredients to make many more batches, so it will really provide a long-term cost savings, and we can quickly grab them from the freezer and take them with us when we ride our tandem together, to provide quick energy out on the trail.
Saving money, energizing and nutritious food, a treat for the trail, and something that will impress my husband. . . all for a few minutes effort today, precipitated by the simple desire to please my husband. . . priceless!
So, what did he think? He really liked them. He mentioned it several times! I think he is really pleased that I found a recipe that meets his needs for nutrition, and are good enough for me to eat! Now, I'll just have to go hide them in the freezer so he doesn't think they are dessert, (and while I'm there, I guess it's time to throw out the old ones)!
Well, I think that was a win, and I'm thinking that even a roadrunner would be impressed with my energy bars. . . if I happen to see one out on the trail, I might toss him a crumb! What about you? Can you think of a gift idea that might please your husband — even if it's not your anniversary?
Shari
Here's my modified recipe (based on the original recipe at Enlightened Cooking)
Energy Bars
1 1/4 c rice cereal (snap, crackle, pop!)
1 c. uncooked quick oats
2 T. whey protein
1/4 c. finely chopped white raisins
1/4 c. finely chopped sunflower seeds (unroasted, unsalted)
1/3 c. of a combination of table syrup and molasses
1/2 c. peanut butter
1 t. vanilla
Combine cereal, oats, whey powder, dried fruit and nuts. Combine syrup and peanut butter, stir over heat until melted. Stir in vanilla, and then pour over cereal mixture, stirring to coat. Press into greased 8″ pan, press down with wax paper. Cool in pan on wire rack, and chill 30 minutes. Cut into 12 bars.
Shared with community at: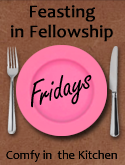 Won Without Words by Shari Popejoy is licensed under a Creative Commons Attribution-NonCommercial-ShareAlike 3.0 Unported License.
Based on a work at blog.wonwithoutwords.com.
Permissions beyond the scope of this license may be available at http://www.injoyinc.com/.