Years ago, my brother had a Stretch Armstrong. I thought it was just a barbie for boys. In fact I think Ole Stretch was probably married to Barbie several times over the years :). My son informs me that they are called 'action figures' instead of boy Barbies. That sounds more manly. Stretch Armstrong was made from some superhuman plastic that allowed his arms and body to stretch out like chewing gum to about  — like six feet, before they morphed back into his buff plastic body shape.
When I read Proverbs 31:17, I'm reminded of Stretch Armstrong.
She girdeth her her loins with strength, and strengtheneth her arms. Proverbs 31:17
The Hebrew words are:
chager. . . mothen. . . 'oz. . . amats. . . zerowa. . . amats
And the translation for those Hebrew words is:
put on a belt/to clothe. . . hips. . . might/power/strength. . . make yourself courageous/brave. . . shoulder/strength/outstretched arm. . . make yourself courageous/brave
So the phrase 'strengtheneth her arms for the task' are made up of words that actually mean: courageous . . . outstretched arm. . . courageous. And girdeth her loins? Well, it sounds like a high rise under construction.
Almost sounds like Barbie meets the Transformers meets Stretch Armstrong.
Basically the Proverbs 31 Woman purposely prepares for hard work, and she makes a conscious effort to bravely bear the burden, reaching out to effectively meet the challenges of life, without fear of the consequences — or at least she's not afraid enough to keep her hands to herself.
She strengtheneth her arms.
The spell checker doesn't even recognize the old word strengtheneth, but it means courageous. And arms doesn't refer to the actual appendage, but outstretched arms — effect — your ability to engage in the process. If you stretch out your arms to help — you are reaching out — you are engaging — you are acting — you're not just feeling compassion, you are reaching out to help.
If you stretch out your arms, you're not just saying, "I feel so sorry for those people in Joplin," you are getting your gloves on and showing up for trash removal.
That's what zerowa means  — outstretched arms.
With courage and bravery, you stretch out your arms . . .
Beauty in action. Barbie meets Stretch Armstrong!
How do you stretch our your arms courageously?
Some Proverbs 31 Women I know, stretch out their arms and embrace foster children, knowing that they will have to stretch out those same arms to give them up again. . .
One Proverbs 31 Woman I know stretches her arms out to the poor, living intimately with the consequences of generations of poverty-thinking, knowing that these children she's pouring her heart into will probably end up making the same poor choices as their parents and grandparents, but maybe this one will be different, so she stretches out her arms over and over again.
You have a great capacity to stretch! You won't break. You have been intricately designed with a special ingredient that allows your soft, supple self to stretch out over and over again. And when you think you have been stretched to the limit, and you slowly lie there spent and exhausted, little by little your soul is restored, and you find yourself ready to stretch out your arms again.
Yes, it takes great courage to stretch yourself out, to become vulnerable to the pain of the snapping,the  rejection, overextending yourself time and time again. But, don't fear the stretching, it is only a demonstration of the strength that God placed within the woman, the special added ingredient that He kneaded into the very fiber of our being. Do not be weary in well doing, for in due season you will reap a reward if you faint not. (Gal 6:9)
Do you know a woman who stretches her arms out courageously? I'd love to hear about her!
Meanwhile, keep stretching Barbie — you were meant to be an action figure!
Shari
Shared with community at: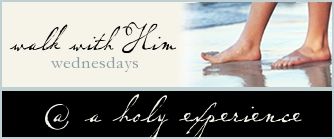 Won Without Words by Shari Popejoy is licensed under a Creative Commons Attribution-NonCommercial-ShareAlike 3.0 Unported License.
Based on a work at blog.wonwithoutwords.com.
Permissions beyond the scope of this license may be available at http://www.injoyinc.com/.