Tip #100:  Share with your husband the areas where God has shown you growth is needed in your life, and ask for his prayer and support in overcoming your sinful nature.
Can't believe we're at day #100! If you have been with me everyday for this journey, I would love to hear from you!
For our final lesson in this series, I would like to encourage you to cling to the promises of God, for they are powerful and effective, to the tearing down of strongholds ( II Cor 10:4). When God gives a command to action, there is always a promise of fulfillment.
The action precipitates the promise.  Every action produces reaction.  Remember Newton's Third Law of Motion? If God established the world, and that scientific principle, it stands to reason that principle is reflected in spiritual spheres as well.
Throughout my journey to enact these one hundred lessons, I learned that when I applied one of the lessons (action), there was a spiritual blessing bestowed (reaction).
In the same way, faith by itself, if it is not accompanied by action, is dead. James 2:17
That means when you act out your beliefs, by changing your actions, there is life giving faith at work — producing an obvious reaction. If you don't act — you really have no faith — you might believe, but you have no life-changing faith in the power of Christ to act in your life. You can believe that your actions (i.e. exercise) would produce a result (i.e. weight loss), but you might be unwilling to act. . . or too lazy to act. . . and you won't lose an ounce with all of your belief. You will only change your actions if you have faith that there is something to be gained by your effort.
Faith produces works. If you believe and have faith, your actions will demonstrate your beliefs.
As a Christian, here are a couple actions/reactions you've learned:
If you look hard enough you will find a reaction (promise) for every action (command).
I've been sharing over the past 100 days, lessons that God taught me over the years when I was praying for my husband and our marriage. Whenever God gave me a lesson, or an action that I was to perform, He also included a promise with it — and it always came to pass as I enacted the sometimes very difficult lessons.
On one particular day, I clearly saw the action as I wrote this command:
Share with your husband the areas where God has shown you growth is needed in your life, and ask for his prayer and support in overcoming your sinful nature.
Followed by this verse:
Ephesians 5:22-33 Husbands give of yourself to make your wives holy, a radiant wife without stain or wrinkle, or any other blemish, but holy and blameless.
That day, I was blinded to the promise.  Usually God gave me an accompanying promise, but I couldn't see it this day, and wrote in my journal "Promise: not revealed yet – wait and see – I Peter 3:1? Won over?"
Five months later as I read over this journal entry, I realized that the promise WAS Ephesians 5:22-33.  I was being made holy, cleansed, without stain or wrinkle, without blemish, blameless.  Or at least I was becoming that! What a different woman I am today as a result of implementing these lessons I've shared with you in this one hundred day journey! Thank you Abba, Father.
For each of these lessons that I've shared with you on these 100 days, God gave me an action, and when I stepped out in faith to do it, a promise was birthed.
He never asks you to obey a command, without giving a promise in return. He is no respecter of persons, and these promises are all true for you, too. The wise in heart will joyfully obey the commands of God, knowing that they bring a promise that will bring satisfaction and contentment in the end.
I hope you have experienced the miracle of fulfilled promises and reactions to the actions that you have performed in faith throughout this journey. If not, don't give up. Truly worthwhile ventures require time and patience. If you devoted sixty years to living these principles before you saw the reaction and fulfillment. . . would that be a good investment?
I think so! I am amazed that God took the weakness I saw in my husband, and turned it into an area of growth for me! In the process, I Peter 3:1 was fulfilled, and my husband was Won Without Words. . . but so was I. Isn't redemption amazing grace?
I dedicated my first book, Won Without Words to my husband with the following inscription:
To my new husband in memory of his first wife. . . May the wife of the next season of your life be a woman of more noble character than the former!
His first wife is gone, crucified and buried, and I have been resurrected to become a more noble woman by the effect of the lessons I have learned and practiced, and continue to practice every day. I'm not perfect, but I'm much more mature than when I began! And He who began a good work, will complete it.
Thank you for joining me on this one hundred day journey to my anniversary. You might not hear from me for a few days. . . but I have enjoyed this journey so much, that I plan to take another trip soon. Want to come along?
Shari
p.s. It might hurt your pride to ask your husband for prayer, but it is Biblical. Your husband might not even seem like he could pray, but even a man who believes that there is a creator, can and will pray to that creator on occasion. . . you might be surprised.
The husband, even if he is not godly, is the priest of the home. God grants him privilege and authority to act spiritually for the family. It can only benefit you to receive the prayers of your husband. In time, perhaps he will learn and grow into a deeper spiritual guidance role in the family, but until then, don't diminish or negate the power of his prayers. And if he is willing. . . then ask, seek, knock, and the door will be opened.
Shared with community at: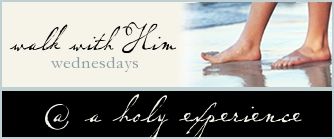 Won Without Words by Shari Popejoy is licensed under a Creative Commons Attribution-NonCommercial-ShareAlike 3.0 Unported License.
Based on a work at blog.wonwithoutwords.com.
Permissions beyond the scope of this license may be available at http://www.injoyinc.com/.